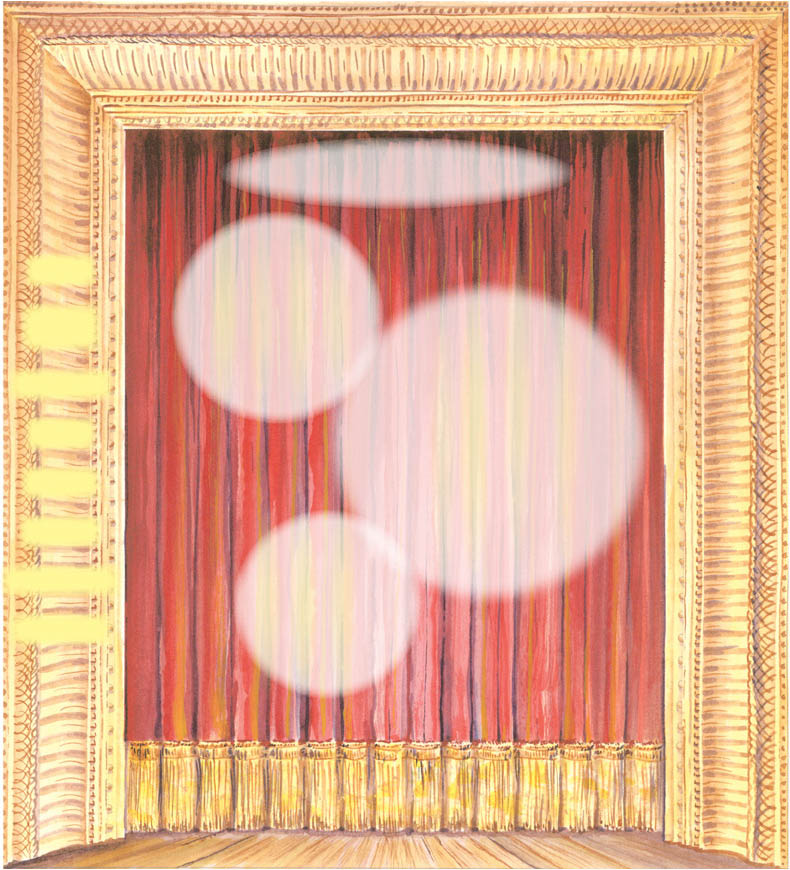 The Curtain is
going up and we have the
solution for your scenery
needs! On stage you will find set
designs ready to build and paint
from, complete with sketches of all
the scenes in the show. You and
your hearty young crew will build
and paint the scenery based on
our designs, and your
production will come
to life.

Designs are based on a nominal stage size with a proscenium 40' wide by 15' tall and with a minimum stage height of 20' and depth of 30'. Sophisticated fly systems are
not
required. You may have to modify what you build to fit into your stage. It is assumed your program has a moderate amount of flat walls, flats with doors and flats with windows, as well as platforms that may be legged up or fitted with casters to roll. It is also assumed that your stage has traveler tracks and basic theatrical drapery or masking. Additionally, it is up to your discretion to edit the scenery as time / money / labor allows. If your program has volunteers or donors with access to sophisticated milling machines or large format printers, we are willing to provide digital information for those machines to help make your life easier. We are always interested in your comments and criticisms as it allows us to serve you better. We would also love to see photos of your successful production! Go to the "contact us" page and send an e-mail.
Our sets are oriented
toward youth programs, be they
educational or extra-curricular. You
provide the stage and all its
accouterments, avail yourself of your stock of
flats and platforms, and we provide you the
guidance to create a truly stunning set! If you
know the title of the show you are producing, go to
the alphabetical list of shows available and click on
the title. Need some help deciding on a show?
Browse through the Musical or Play selections
and click on the thumbnailed image that strikes
your fancy. Don't see the title you want to
produce? Are you doing an opera, a
ballet? Go to the contact us
page, drop us a line and
put in a request!

We can also
custom design a set
specifically for your stage or
your production concept if the
time allows. All inquires
welcome! When you've settled
on a set, fill out the order form
and the drawings will be on
their way! Work safe and
BREAK A LEG!

WELCOME TO WWW.STAGESCENERY.COM
The home page of C L Scenery, LLC